Description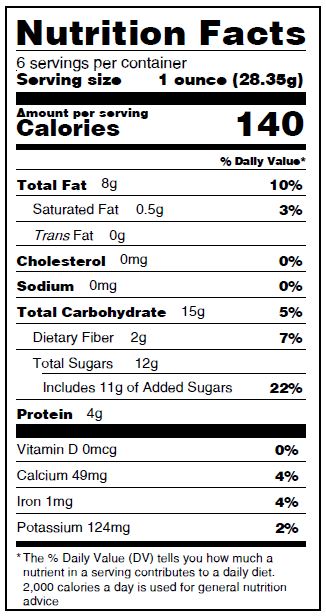 INGREDIENTS: Almonds, Pure Cane Sugar, Ground Cinnamon, Natural Vanilla Flavor
ALLERGEN NOTICE: Packaged on equipment that processes tree nuts and milk.
Shell fragments may be present
Contains: Almonds




Vitamin E is an important antioxidant that may play a role in the prevention of many chronic diseases. Almonds are a premier source of Vitamin E.
Almonds are nutritionally dense superfoods. A one-ounce serving of almonds, or about a handful, is also excellent source of magnesium, and a good source of fiber. It also offers heart-healthy monosaturated fat, protein, potassium, calcium, phosphorous and iron.
Eating a daily handful of almonds a day may lower LDL, or bad cholesterol. According to American Heart Association, men and women who ate on daily ounce of almonds for a month lowered their LDL cholesterol by 4.4 percent. Those who ate two daily ounces of almonds lowered their LDL cholesterol even more "by 9.4 percent".
An ounce of almonds provides 6 grams of protein.
Storage Tips – After opening store in a cool, dry place with zip lock closed.
Approx. 220 pieces per pound.