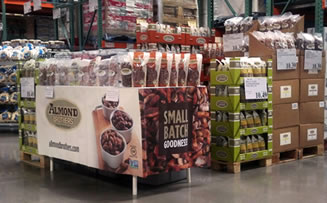 We love sharing the aroma of our kitchen on the road with you! Stop by and taste the goodness of freshly roasted nuts at one of these roadshows near you!
If you are looking for a specific flavor please call to confirm if it will be featured, as we rotate flavors each week.
All dates are subject to last minute changes so please check back to confirm or call Costco to verify.
******AS OF 3/6/20 COSTCO HAS STOPPED ALL SAMPLING UNTIL FURTHER NOTICE. ALL ALMOND BROTHERS ROAD SHOW DATES ARE CANCELLED UNTIL COSTCO RESUMES DEMONSTRATIONS. PLEASE CONTACT COSTCO DIRECTLY FOR ANY QUESTIONS. WE APOLOGIZE FOR ANY INCONVENIENCE******
Roadshows & Tasting Events — April 2020
Events Search and Views Navigation
Calendar of Events
Calendar of Events

| Sunday | Monday | Tuesday | Wednesday | Thursday | Friday | Saturday |
| --- | --- | --- | --- | --- | --- | --- |
| 29 | 30 | 31 | 1 | 2 | 3 | 4 |
| 5 | 6 | 7 | 8 | 9 | 10 | 11 |
| 12 | 13 | 14 | 15 | 16 | 17 | 18 |
| 19 | 20 | 21 | 22 | 23 | 24 | 25 |
| 26 | 27 | 28 | 29 | 30 | 1 | 2 |
+ Export Events